Do you remember the Open Electricity Market (OEM) launching to great fanfare and island-wide campaigns encouraging Singaporeans to switch to alternative electricity retailers 2 year back? Interestingly, even with the many benefits that come with switching away from SP Group, only less than half of Singapore's households have chosen to do so!
However, with more of us working from home due to COVID-19, it is inevitable that we are starting to see the impact on our utility bills over the past year. Feel a pinch on your wallet every time you receive your bills in the mail and see your water, gas and electricity bills trending upwards?
Well, there is something you can do about it – at least for your electricity bill!
Clueless about making the switch? Not to worry! In this guide, we will go through everything you need to know to help you make the right decision for your home (and wallet)!
What is the Open Electricity Market & How Does It Affect You?
Ever wondered how electricity makes its way to your home from the power plants? Here is a simple breakdown of what goes on behind the scenes:
Power generation companies generate and sell electricity from their power plants to the wholesale electricity market – they are the suppliers
Electricity retailers (like SP Group) buy the power in bulk from the wholesale market and re-sell it in smaller quantities to direct consumers (e.g., households like us!)– these are the intermediaries
The generated electricity is delivered reliably to our homes via the national power grid, managed by SP Group too!
For the longest time, SP Group was a dominant player in the electricity market – being both the operator of the national grid as well as the main electricity retailer.
Since 2001, the Energy Market Authority – EMA (the governing agency that overlooks electricity and gas) started efforts to liberalise the market with the introduction of more retailers to businesses with high electricity consumption.
In 2018, the Open Electricity Market (OEM) was rolled out to the remaining consumer market across Singapore in phases. Consumers were introduced to 12 new authorised retailers who offered a variety of plans and options to meet individual household needs.
How does the OEM benefit you?
Now to address the biggest point of switching to another electricity provider, how does it affect you the consumer?
Here are 2 main benefits:
More Choices
For the longest time, buying electricity from SP Group meant paying a fixed quarterly tariff rate (which includes a fuel component and non-fuel component) – that is reviewed and regulated by the EMA.
With the introduction of the 12 new electricity retailers, more electricity plan options were introduced:
Fixed Price Plans
Discount Off the Regulated Tariff Plans
We will talk more about these two new plans in detail below!
But the general idea is now that consumers have more options to choose from!
Healthy Competition Amongst Retailers Result in Better Prices and Value
Remember how you rejoiced when Circles Life was introduced as the 4th telco? Their entry into a relatively oligopolistic industry transformed the way the three main telcos operated for good! As consumers, we not only enjoyed better prices, new offerings (e.g., no-contract plans) but also great service as they competed for our wallet share!
This is what the liberalisation of the energy market aims to do for us too!
As the 12 retailers compete for our vote of confidence, consumers are reaping benefits like the following:
Options to choose from cleaner energy sources (e.g., solar energy instead of gas)
Up to $338 Bill rebates
NTUC vouchers upon sign up
Referral rebates
Roadshow deals
And more…
Price Plans (OEM Retailers Vs. SP Group) – What You Need to Know
| | |
| --- | --- |
| SP Group | OEM Retailers |
| One standard pricing: Electricity Tariff (reviewed and adjusted quarterly) | Two types of standard price plans: Fixed Price Plans Discount Off the Regulated Tariff Plans   (can be locked in for up to 6 – 24 months) |
With the SP Group, you will be paying a regulated electricity tariff rate that fluctuates quarterly according to changes in cost of fuel and power generation. In this situation, some months you could be paying much for the same amount of electricity used versus other months.
If that sounds too uncertain for you – now you have other options.
With most OEM retailers you can pick from two alternative pricing structures:
Fixed Price Plans
Like the name suggests, you will pay a fixed rate for the period of your contract – independent of the regulated tariff. Which means, if you lock in a cheap fixed rate, you may save a lot more in the situation where the electricity tariff rates happen to increase due to higher demand in certain months!
The upside here is you pay a fixed rate for a locked in period and you do not have to worry about energy prices fluctuating up or down. However, the downside is the savings is not certain from month to month.
Discount Off the Regulated Tariff Plans
Also very appropriately named, prices plan of this nature simply offer a direct discount off the regulated tariff rates! This means, if the regulated tariff rate is 22.93 cents/kWh (wef 1 Oct – 31 Dec 2020), consumers with a 23% discount off the regulated tariff plan will pay 17.66 cents /kWh instead.
While there is still an element of uncertainty on your quarterly rates, you know for sure you are getting a better deal than whatever the SP Group consumer is paying.
Ready to make the switch? Hold up! Go through our price comparison analysis first before you choose your new energy retailer to switch to!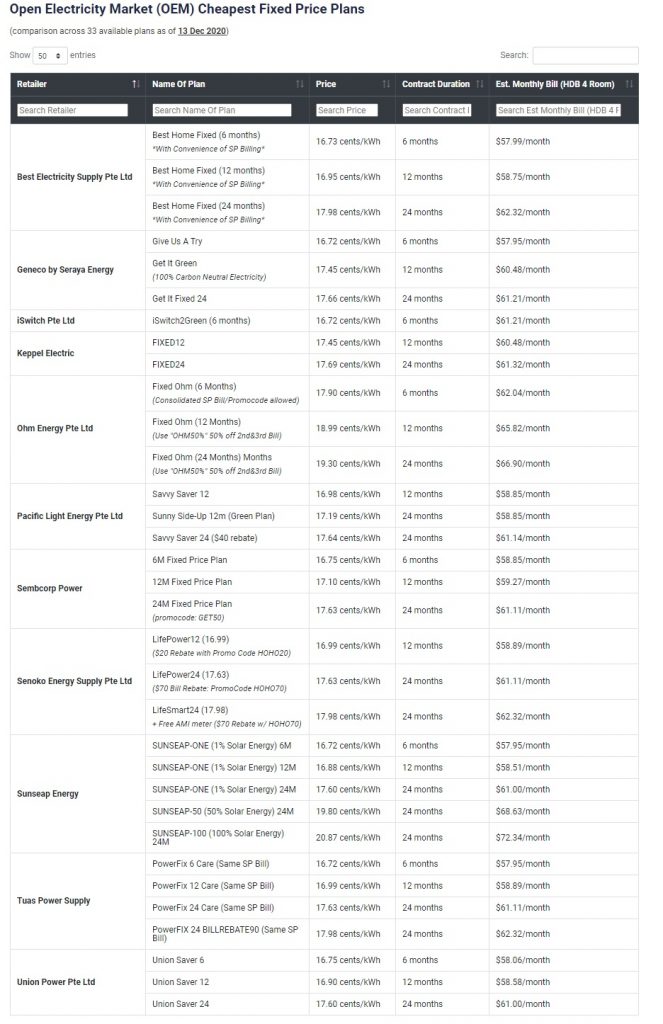 How to Choose the Best Retailer & Plan?
To help consumers make the most informed decision, the Open Electricity Market official website has a handy comparison tool that helps you compare the offerings across all the 12 retailers.
The tool provides the following filters to help narrow down your choices:
Contract duration – choose from shorter 6 month plans to try it out for a short while or lock in for a longer period up to 24 months
Smart Meter – some retailers require the installation of a smart meter to track consumption (which requires one-time set up cost)
Green power – want to use electricity generated from cleaner sources, choose from the green plans
Incentives – want to find out which plans are offering incentives?
Picked your ideal plan? Make sure you download the factsheet and look through the terms and conditions of the contractual agreement:
Duration
Registration fee
Direct billing by retailer or consolidated billing with SP bill
Late payment charges
Renewal
Early Termination Charges
Security Deposit
Advanced meter required?
Incentives
With that, you are all ready to save a bundle on your on-going electricity bills!