mc2 is proud to announce the expansion of its smart blind gallery, from 4,200 square feet to now 7,000 square feet. The gallery is set to offer an exciting retail experience, with an advanced smart living experience as well as Singapore's first-ever indoor display of full-size Renson outdoor blinds. Along with the launch of its newly revamped gallery, mc2 will also be launching the full range of ALTEX indoor blinds and curtains. In addition, mc2 will be bringing in premium furniture, designer fabrics as well as the solutions of renowned electronics giants, sound and lighting brands and many more.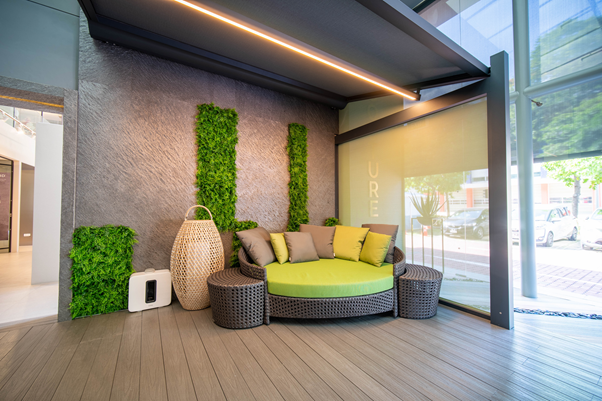 Singapore's First-ever Renson Outdoor Blinds Experience Centre at mc2
mc2 is set to revolutionise outdoor-blind shopping with the Renson Outdoor Blinds Experience Centre. This experience centre is equipped not only with a full suite of Renson outdoor blinds solutions, but also with a coloured LED illuminated ceiling that can display over 200,000 colour hues. The ceiling can simulate different weather conditions, from sunshine to rain and even thunderstorm, complete with sound effects.
Now, customers can experience how Renson Camargue's, Lapure's, Aero's, Linarte's, Algarve's series of outdoor retractable blinds will function during different types of weather. To complete the experience, mc2 has partnered with OHMM, a purveyor of premium outdoor furniture, to allow its customers to lie back and relax under the shade of Renson's blinds as if they were in their own gardens or backyards.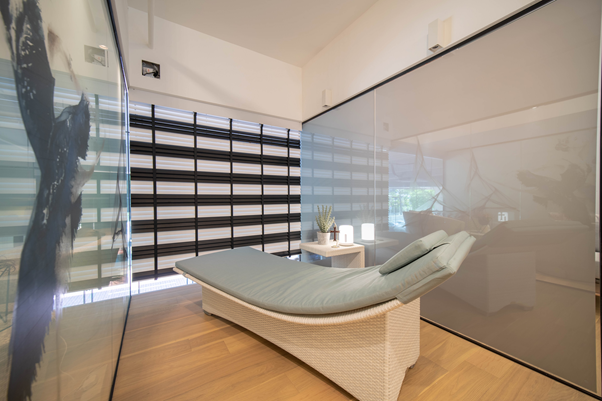 A Glimpse of Smart Living
Customers can also experience the concept of a smart home right at the ALTEX Solution Centre. mc2 has collaborated with renowned brands such as Philips Hue, Samsung, Somfy, and Sonos to bring in voice-enabled smart-home devices. From curtains to blinds, glass films to home appliances such as air conditioners, TVs, speakers, lighting, and robotic vacuum cleaners, these devices can be synced with Google Assistant. A simple command such as "Hey Google, I'm home" and the smart-home ecosystem will automatically activate the lights, speakers, television, air-conditioning and curtains. Homeowners can also preset their preferences and the controls will automatically change the ambience of the room — say "movie time" or "I'm going to bed" and the lights will dim, and the curtains will draw. 
ALTEX 100% Block-Out Blinds
In conjunction with the expansion, mc2 will launch an entire new series of indoor blinds and curtains from ALTEX. The 100% block-out blinds are the first of its kind in Singapore with the ability to provide total shade from sunlight. Typical blinds in the market come with gaps between the blinds and the frames. The 100% block-out blinds are made with frames that can eliminate the intrusion of light as well as reduce noise. Not only that, they are fully motorised, so they can be easily controlled via remote control, smart phone apps and even voice command.
ALTEX Top-Down-Bottom-Up Blinds
For those who prefer a brightly lit room, the top-down, bottom-up blinds are an ideal choice. They let  light in while still allowing homeowners to enjoy privacy as the neighbours are unable to peer into the house. With these blinds, homeowners can look forward to energy-saving — during daytime, they no longer have to turn on the lights whenever they draw the blinds to ensure privacy.
ALTEX Verti-Sheer Blinds
With ALTEX Verti-Sheer Curtains, homeowners can enjoy light with a soft glow as well as privacy whenever they want. The ALTEX Verti-Sheer curtains are made of sheer fabric with attached vertical vanes that can be fully adjusted thanks to its 180-degree rotation capability.  
ALTEX Duo-Sheer Blinds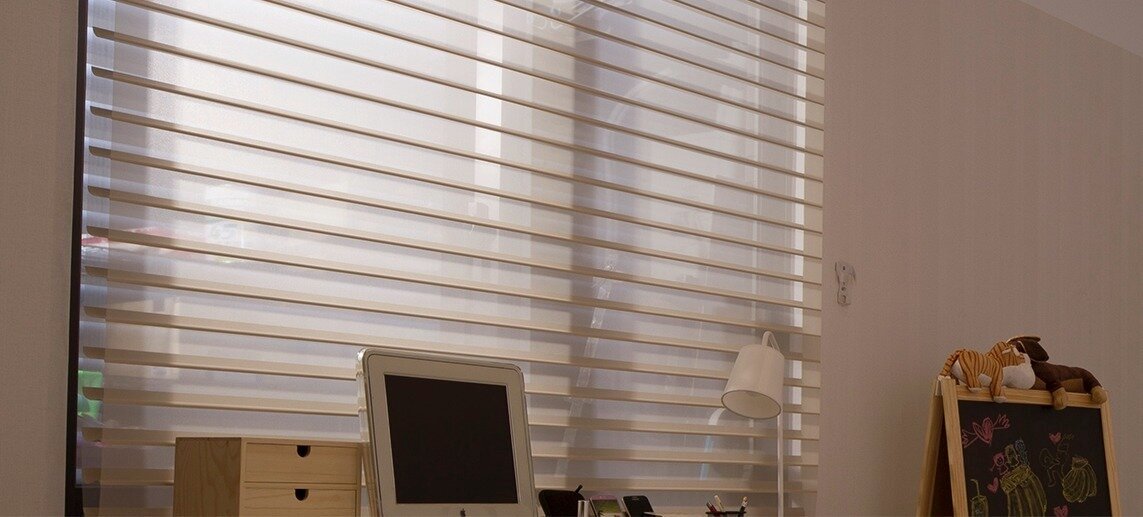 Combining texture and warmth, the ALTEX Duo-Sheer blinds feature adjustable soft vanes that "float" between two sheer fabrics. These beautifully designed blinds allow a soft shaft of light to enter the home, while maintaining privacy.
Also, at the gallery, discover premium designer fabrics from Jean-Paul Gaultier, Kate Spade, Perennials, Maria Flora and more. mc2 has struck up exclusive collaborations with multiple suppliers under one roof, all under a single point of contact — customers can reap the benefit of convenience! Get the best combination of style and smart home furnishing!
About mc2
mc2 has been in the consumer retail business for more than 20 years, providing smart solutions to all its customers. It sets itself aside from its competitors by delivering not just products, but a full suite of solutions to its customers.
mc2 prides itself on offering end-to-end service to its customers. With a factory in place, mc2 has the capabilities to manage its own research and development for products such as retractable outdoor blinds. mc2 sells directly to its customers, and handles the installation process as well, for quality assurance.
Its business portfolio now covers window solutions, balcony solutions, wall solutions, flooring solutions, and audio solutions. The brands that mc2 carry include ALTEX, Elero, Hikvision, Hunter Douglas, igloohome, Nice, Ohmm Furniture, Samsung, SecureZIP, Somfy, Sonos, Starwalls, TOSO Japan, Ruarc Audio and Wood Couture.